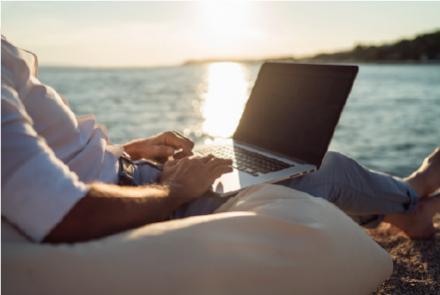 The realization of the new optical fibre infrastructure, along 19 kilometers of Emilia Romagna's coastline, is now in progress.
This operation, possible thanks to regional fundings, aims at activating an Ultra Broadband WiFi service on the seafronts of the different seaside resorts, in order to grant this necessary service to these areas, which are characterized by an intense flow of tourism.
The first intervention has been developed, for over 6 Km, along Rimini's Northern Seafront, from River Marecchia to Igea Marina's border, and is about to be completed. This operation has been brought on in conjunction with the Municipality of Rimini which, concerning the retread of the Northern Seafront, prearranged the infrastructures that allowed Lepida an easier deployment of the optical fibre and of the technological implants. Other interventions, in executive planning stage, will be realized on Igea Marina, Bellaria, Cesenatico, Cervia, Milano Marittima and Misano Adriatico's sea fronts, summing up to about 19 km of coastline. The segments completed to this day employ existing structures, with the exception of an inconsequential number of digging operations which allow the connection of the different segments. In total, 200 highly functioning Access Points (AP) are expected to be installed and uninterruptedly working before the beginning of the next tourist season.
The project was born from an agreement between the Emilia-Romagna Region and the Ministry of Economic Development and from the following Convention among the in-house companies operating in the ICT field, Lepida and Infratel. The agreement states that Infratel's intervention should be built upon some ventures, organized by Lepida, considering the wide diffusion of free WiFi all over the regional territory. From an operative point of view, Infratel provides the APs and Lepida takes care of the optical fibre connection among the different locations. It is important to underline how this operation, along with other middle-length ventures Lepida is working on, helps to improve the network and the connectivity services it erogates.
Since the beginning of this first stage, to support the traffic that will hopefully be generated by the use of the large number of APs, Lepida has prearranged the construction of new structures, in order to strengthen its 100Gbps backbones and allow the urban areas a bigger capacity.