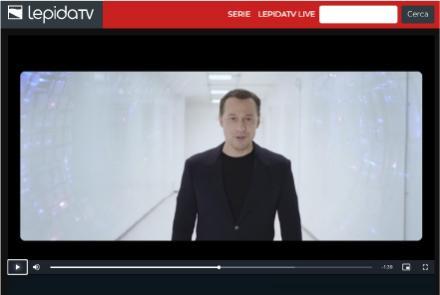 LepidaTV's new website is finally online, completely renewed in both its graphic and informative components, featuring a modern and impactful layout. The restyling does not only concern the visual elements, but also functionalities and contents presentation, which have been reorganised to simplify the classification and the users' choice.
The experience is now enjoyable from a mobile device as well, thanks to the new intuitive, accessible and responsive interface. The website's new design mirrors LepidaTV's new mission, devoted to supporting regional communication and its operative plan. From now on, the contents will be divided into 14 thematic playlists, which already include the old videos from the archive and feature new contents produced by regional structures, local agencies and Emilia-Romagna's Community Network. The web daily schedule has been enriched with over 300 new videos and a reorganisation, now divided into slots, depending on topics and targets. Moreover, the new LepidaTV represents a joint project between the Council and Regional Legislative Assembly, with the possibility of hosting informative contents from Council's Information and Communication Agency and by the Assembly's Information and Institutional Communication Service.
This is an important step forward in digital communication, which leave space to television broadcasters, right before the new national plan of frequencies' repartition: a revolution that, since the 14th March, the day of the completion of the switch off in Emilia-Romagna, does not allow the reception of channel 118, on which LepidaTV used to broadcast, anymore.
LepidaTV has always been a mean for the narrative of our territory, valorising what's produced and realised in Emilia-Romagna and now - about 15 years and 8 thousand videos after its birth - it characterises itself as the media of innovation a bit more every day.