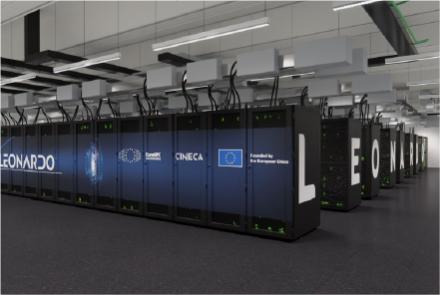 The connectivity Cineca requested Lepida is now active, supporting Leonardo's assembling, installation and starting phases.
Leonardo is one of the eight pre-exascale supercomputers of which the European high performance computing network EuroHPC consists. The supercomputer is managed by Cineca and is one of the PNRR founded National Research Centre for High Performance Computing, Big Data and Quantum Computing resources. Leonardo is located in the Tecnopolo of Bologna, which already hosts the European Centre for Medium Range Weather Forecast Datacenter (ECMWF), co-founded by EuroHPC Joint Undertaking, with a contribution of 240 millions of euros, and the University and Research Ministry.
The delivery of the components for Leonardo's assembling started in July, it includes 157 racks, 4.993 servers, for a total weight of 360.000 chilos, and hundreds of kilometres of cables, in order to allow Cineca's Leonardo to complete 250 millions of billions of operations per second. As a necessary support, during the installation stage, Lepida provided a 1 Gbps connectivity, through a specific radio link. This solution permitted, despite the Tecnopolo building site's activities, access to a high speed connection.
Lepida's activities are included among those planned in the first article of the Regional Law 7/2019 (Region Emilia-Romagna's Investments in Big Data and Artificial Intelligence, meteorology and climate change) which states that these investments are supported "also through the use of infrastructural networks, connectivities and interconnections provided by Lepida, in agreement with other national and international public entities".