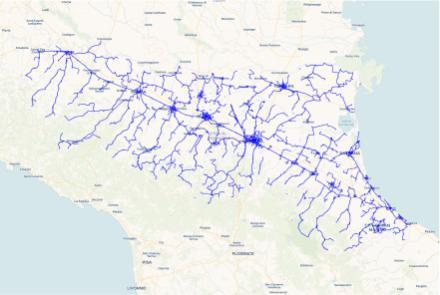 The new Lepida's Ultra Broadband network cartography website is now available.
The website, reachable at the url https://cartografia.lepida.it, is the electronic registry of the network, and it traces its presence on the regional territory.
Lepida's network is described as a set of linear and dot-shaped georeferenced elements, linked to each other by different information layers. These layers correspond to the actual layers of the network (such as the infrastructural layer - made of cable ducts and wells, and the optical one - made of cables, links and endings).
Besides the actual infrastructure, it is possible to view the set of all the connected public buildings, such as Municipalities, Provinces, Schools, Hospitals and Universities.
The user interface is simple and intuitive. It is possible to explore the map directly using the mouse or with the navigation keys. It fills almost the whole browser window, allowing an agile visualisation of the area of interest, which can be selected through the three buttons at the top.
On the left side there is a column containing selection menus that can disappear to leave room to the map display. The menu column is divided in two areas, the top half contains the layer options, the bottom half depends on the element that is selected (with a click on the map or through keyword research) and it contains the list of the network assets connected to it.
The attributes of the selected assets can be visualised by clicking the detail arrows in the selected elements list.
The section concerning the network's extensions and evolutions is updated in real time, because it directly elaborates data from the geographic database to which the manufacturing companies update the required information, according to the data model defined by Lepida.
The new website grants the same functionalities the previous one did, but in a clearer, fastest and modern way.
It is, indeed, based on the WMS (Web Map Service) geospatial services standard, which provides map images regarding specific geographic layers and areas of interest, reducing the transfer of information, improving the responsiveness and laying the groundwork for the creation of interoperable services. 
Among the peculiarities of the new website, it is worth mentioning the new automatic research function: it is possible to seek an asset by its Lepida identification code. This type of research adds to the already well-functioning geographic one. T
he new website allows a free access to any user, for graphic consultation of Lepida's network, while, in order to access detailed information regarding a specific asset, it is required to authenticate through SPID credentials. The information is, however, available to any user, without further qualifications.