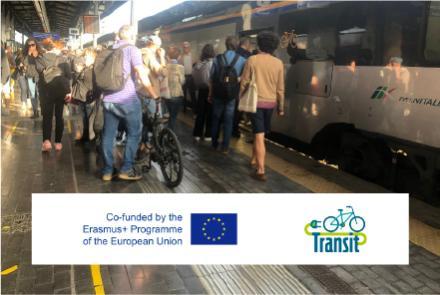 On the 14th of June, 2023, the final event of the Erasmus+ TRANSIT project was held in Parma; it was focused on the promotion of sustainable mobility and behavioural change through the implementation of training courses aimed at workers, citizens and students.
Lepida, as a partner in the project, contributed to the development of a questionnaire that was administered in the territories involved, including the Municipality of Abegondo in Spain, the Attica region in Greece, the Municipality of Karlstad in Sweden, the Pedemontana Parmense Union and the Municipality of Imola. 
The responses to the questionnaire, provided by some 3,000 participants, highlighted a number of strategies and actions to be taken to promote cycling in the long term, including building an integrated network of cycling infrastructure, reducing travel distances through urban and mobility planning, offering economic incentives for cycling, improving the environmental environment for cyclists, introducing electric bikes and organising awareness campaigns on cycling. 
Speakers included Regional Councillor Barbara Lori, who emphasised the importance of translating the effects of supported actions into concrete results on the ground. Mikael Haster, from Karlstad Municipality, shared the path followed to increase demand for public transport and bicycle use, which focused on three perspectives: the car, the home and the behaviour. 
Haster emphasised the importance of using data to influence behaviours, for example by showing how travel time by car is longer than by public transport or bicycle, thus highlighting the lower efficiency of car-based travel.