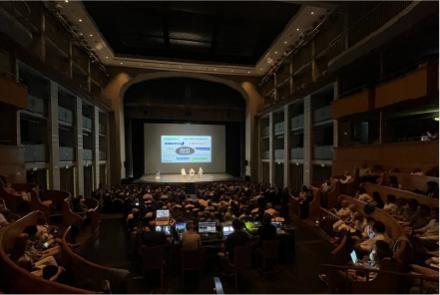 The meeting aimed at Data Protection Officers (DPOs) of public and private data, promoted by the Guarantor for the protection of personal data in cooperation with Lepida and the Emilia-Romagna Region, took place on 23rd of June 2023 in Bologna at the Arena del Sole Theatre, with more than 800 participants registered from all over Italy. 
At the opening, the President of the Emilia-Romagna Region, Bonaccini, stressed that "the protection of personal data is fundamental because it concerns the rights and freedoms of each one of us", while the President of the Guarantor, Stanzione, stated that "the 'bet' of accountability depends on the role of the DPO". 
The General Manager of Lepida Mazzini reported the numbers of Lepida's commitment to the DPO service to its members since 2018: over 2,000 opinions rendered, more than a thousand meetings, most of which by remote, more than 7,000 people taking part in the training offered by Lepida, while Ferola, DPO of the Guarantor, presented the 'numbers' on DPOs in Italy. 
The meeting then got to the heart of the matter with the 4 sessions (2 in the morning and 2 in the afternoon) of discussion between the Guarantor, represented by Filippi, Deputy Secretary and Head of Public Realities, and by Modafferi, Head of Economic and Productive Realities, and 8 public DPOs (Emilia-Romagna Region, Giuliano Isontina University Health Authority, Ministry of Foreign Affairs, Bio-medical Campus University of Rome) and private DPOs (Unipol, BNL Paribas, Ferrovie dello Stato, ACEA). 
In his conclusions, Mr. Scorza of the Guarantor's Office underlined the three fundamental points that emerged during the day: 1. strengthen the DPO community 2. continue and broaden the debate in the coming months 3. make the issue of personal data protection as a fundamental part of the European identity more and more 'popular'. 
The full recording of the event will soon be available on the Guarantor's website.