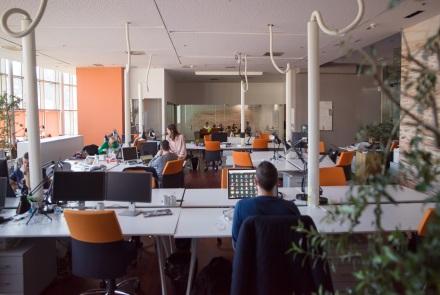 The pandemic triggered by the spread of the new Coronavirus has altered the habits and lifestyle of each individual and has inevitably raised the need to remodulate work modalities and activities. In this scenario, ANCI Emilia-Romagna and Lepida launched a co-spacing initiative to support those looking for a space to work remotely, equipped with connectivity and extra services, to facilitate the resumption of some public and private activities. The Emilia-Romagna municipalities were thus asked to make available one or more places, where the Lepida Network is already present, in order to allow Public Administration staff, students and private workers to utilize them. The places eligible to apply must allow citizens to enter and stay at the correct interpersonal distance. If connectivity in these spaces is not available, Lepida will provide for it by extending the coverage of the EmiliaRomagnaWiFi network without charge to the Municipalities, for the entire duration of the health emergency. The Municipalities that already joined the initiative have indicated spaces equipped not only with stations, printers and computers, projectors and blackboards, but also with facilities such as relaxation rooms, vending machines for drinks and food, bottle warmers and changing tables.
"ANCI Emilia-Romagna believes that the co-spacing initiatives of the Municipalities are an important part of the many activities aimed at promoting both remote work and remote study for everyone in the coming months. We are convinced that the path out of the pandemic must lead us to work and study not 'as before', but 'better than before' and the Municipalities want to be at the forefront in promoting and consolidating the necessary innovation. I would like to thank Lepida for providing the necessary support for the initiative with its great technical skills and the immediate availability of infrastructure", comments Denise Ricciardi, Director of ANCI Emilia-Romagna. "Lepida was immediately involved in the emergency phase in order to support the Social Bodies and citizens, implementing a series of targeted actions and initiatives. Co-spacing is one of them, also in the context of phase 2. But not only: co-working changes the idea of the traditional office, it is based on the concept of sharing, not only of spaces, but also of ideas and projects. Co-working can help to expand one's professional network and create opportunities, it can give the possibility to create professional and non-professional relationships, find inspiration from these connections, as well as to work in always different places at low costs", explains Gianluca Mazzini, Director General of Lepida.
The details of the initiative, how to join and the structures made available to date by the Municipalities are published at the following link https://www.lepida.net/covid-19- cospacing.