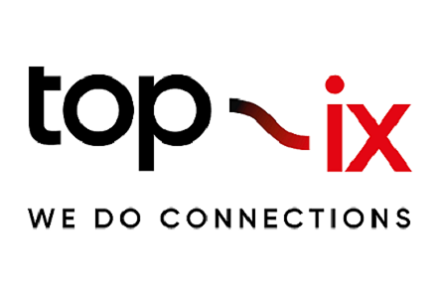 Lepida adds another fundamental piece, among the IXs with which it has made direct agreements, by entering the TOP-IX Consortium (Torino Piemonte Internet eXchange), an important strategic node for the exchange of Internet traffic in the Italian North-West. The TOP-IX Consortium, to which 90 public and private subjects adhere, has been active for over fifteen years on various fronts, from the management of Internet Exchange infrastructures (reason why it was established in 2002) to the Development Program, with which, since 2006 it has provided support to technological innovation projects. The evolution of the TLC market and the continuous search for low-latency Internet Exchanges with availability of Operators with which to peer, has in fact pushed Lepida to further expand the implementation of peering strategies.
Through this agreement, Lepida has therefore become official reseller for the territory of Emilia-Romagna, thus allowing the Operators that offer services in our territory, through the signing of the Agreement for overcoming the digital divide, to peer directly on TOP-IX and to offer transport services to interconnect to this important Internet Exchange in Piedmont. The initiative, in addition to opening the possibility of further collaborations aimed at increasing the interconnection between the territories of Emilia-Romagna and Piedmont, has allowed Lepida to have, through its equipment present at Milano Caldera (MIX), a 10Gbps port on TOP-IX with the possibility of using it both for the public peering network and for other strategic services, such as the migration and use of the services of AIPO, a member of Lepida, present on the CSI Piedmont datacenter, the same location as TOP-IX.
In the next few weeks Lepida plans to define the price list of the specific services to be provided to all Operators requesting them.